What: Red Rocks Park & Amphitheatre
Where: Denver
When: Visitor Center: Summer hours (May-Sept): 8:00 AM – 7:00 PM daily
Winter hours (October-April): 9:00 AM – 4:00 PM daily
The Beatles. Lyle Lovett. Sting. Al Jarreau. Allman Brothers Band. Earth, Wind & Fire. Rage Against the Machine. Itzhak Perlman. Grateful Dead. Paul Simon. U2. Smothers Brothers. Igor Stravinsky. Joe Cocker. Peter, Paul and Mary. Emmy Lou Harris. Al Hirt. Santana. Indigo Girls. Sheryl Crow. Phish. Willie Nelson. Roseanne. Count Basie. Victor Borge. Widespread Panic.
From Opera to Rock, Jazz to Reggae, Folk to Swing, Classical to Country; all types of musical performances have occurred at this spectacular natural amphitheatre since the early 1900s. In 1911, a famous opera star of the time traveled up to Red Rocks by burro to try out the acoustics and declared, "never in any opera house the world over have I found more perfect acoustic properties."
How old is this amphitheater? Look at the 300-foot-high red sandstone cliffs on either side of the seating area. Ship Rock and Creation Rock have probably been standing here for over 250,000 years. The seats, stage, and other man-made additions were built from 1936 through 1947, designed with an emphasis on preserving the natural beauty of the area.
During the day, or late into the evening when no concert is scheduled, you can come explore this beautiful concert venue. Stand in front of the stage and speak to friends watching from high above in the last row of seats. Imagine thousands of fans anticipating the start of a concert. From the seating area, enjoy the panoramic views of Denver in the distance.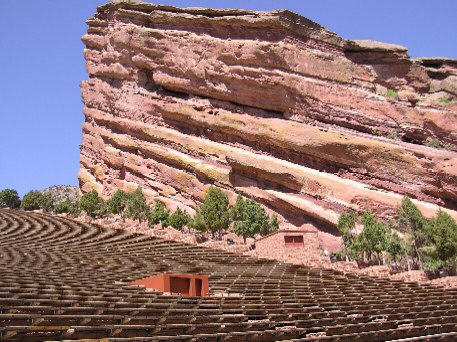 When you're done exploring the amphitheatre, don't miss the captivating Visitor Center, which opened in 2003. The Visitor Center is tucked under the seating, so it made a minimal impact on the appearance of the area. Watch a 10-minute film that describes the history – both natural and musical – of the park. Reminisce as you view concert posters from the past 40 years, see instruments belonging to favorite musicians, or use the interactive computer terminals to find out who performed here or to remember a special concert. Enjoy a relaxing meal at the Ship Rock Grille, a full-service restaurant located in the Visitor Center building.
Do you still have some energy left? Explore the paths around the amphitheatre, or hike the rugged 1.4 mile Trading Post loop trail, which will take you through marvelous rock formations, meadows, and valleys. Remember that rock climbing in this park is strictly prohibited, and failure to comply with this rule carries a large fine. The trail closes ½ hour before sunset.
This is a Denver-area classic, not to be missed!
For more information, contact:
Red Rocks Amphitheatre
16352 County Road #93
Morrison, CO 80465
(303) 295-4444 or (303) 640-2637
www.redrocksonline.com
Additional directions:
Red Rocks Amphitheatre is located near Morrison, 15 miles west of downtown Denver. From I-70 take the Morrison exit (259). At the bottom of the exit ramp turn south (left, if you were driving Westbound on I-70) onto CO 93 and continue about 1.5 miles to the signed entrance on your right. Note: turn left at this intersection to visit Dinosaur Ridge.