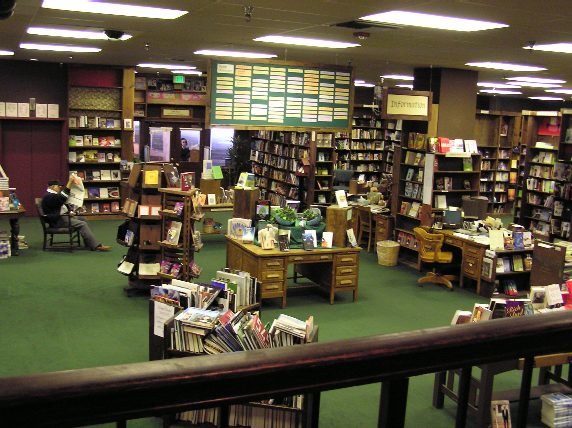 What: Tattered Cover Bookstore
Where: Denver
When: * see website for the operating hours for each store
* The original Cherry Creek store moved in June 2006 to a new location at the old Lowenstein Theater at Colfax Ave. and Elizabeth.
What's a bookstore doing in a website about free things to do in Colorado? Well, my friends, the Tattered Cover isn't just any bookstore. What started out over 30 years ago as a small, cozy bookshop with an eclectic selection of books evolved into an amazing place for anyone who enjoys books. Not only will you find an outstanding selection of books (over half a million in the 3 locations, consisting of over 150,000 titles), but you'll still enjoy the feeling of being in a cozy shop where you feel welcome to curl up on a sofa or sit back in a recliner to enjoy reading a book, magazine, or newspaper. This is the bookstore that some of the "big box" booksellers wish they could be.
Our favorite location was the one in the Cherry Creek area of Denver. When they outgrew their small shop, Tattered Cover moved into a large building formerly occupied by a local department store. That location is now history as well. However, the newest spot to enjoy Tattered Cover is in the historic Lowenstein Theater on Colfax & Elizabeth near East High School. We're sure you'll still enjoy a stroll among the thousands of books, and find a favorite nook or cranny (there are plenty to choose from) where you can relax. And don't forget to stop in at the in-house coffee shop cafes.
If all this isn't enough to entice you to visit, check out the stores' Events Calendar. Nearly every day or evening there is a special event at one or more locations. Book Clubs, discussions and book signings by nationally-famous authors, poetry readings, children's science presentations, a film series, and even tasting events presented by cookbook authors are offered. Check the Tattered Cover website or call their Events Line at (303) 322-1965 ext. 7446 for a schedule.
If there is such a thing as a perfect bookstore, this is it. Enjoy!
For more information, contact:
Tattered Cover Book Store
Historic LoDo
1628 16th Street
Denver, CO 80202
(303) 436-1070
Historic Lowenstein Theater
2526 East Colfax Avenue
Denver, CO 80206
(303) 322-7727
9315 Dorchester Street
Highlands Ranch, CO 80129
(303) 470-7050
www.tatteredcover.com
email: [email protected]