What: International Snow Sculpture Championships
Where: Breckenridge Riverwalk Center (Between Washington Street & Adams Avenue)
When: Late January or early February
The Breckenridge International Snow Sculpture Championships have been held for over 13 years. With sculpture names like Prometheus (2002), A Fishing Tail (2003), Winter's Oasis (2004), and The Nautilus (2005), this isn't your backyard "let's make a snowman" contest.
The unique snow sculptures are hand crafted works of art which are created over a period of 65 hours from 10 foot by 10 foot by 12 foot tall, 20-ton, specially formed blocks of snow. Artificial snow is used for the best consistency. Front-end loaders dump snow into frames, and volunteer "snow stompers" work to compact the snow.
Four person teams from all over the world meet here in Breckenridge to compete in this yearly event. All sculpting is done using only hand tools.
You might think that there are thousands of dollars in prizes to win as a result of this competition. Nope. The teams get a free ride to and from the Denver airport, and free room and board during the 5-day sculpting period. Winners enjoy recognition for 1st, 2nd and 3rd place as well as awards for Peoples' Choice, Kids' Choice and Artists' Choice, but no cash awards.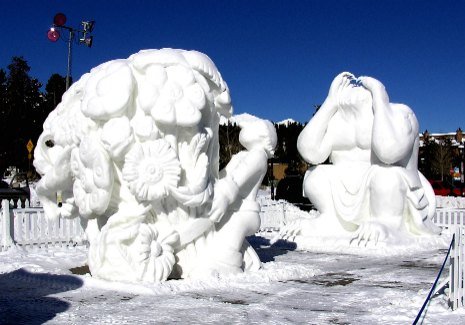 You'll marvel at the attention to detail each of these teams apply to their design. It's fun to visit the sculptures one day and then return the next to see how they are taking shape. Each sculpture has a drawing on display for spectators to see how the finished product will look.
Each year brings a different selection of sculptures and teams. Present and past sculpture designs can be found on the website referenced below.
If "Texas Chainsaw Massacre" was one of your favorite movies, you'll also not want to miss the additional event where intricate ice carvings are created using chain saws. Each carving is sculpted into a glowing statue.
Dress warmly and plan on staying around to view all of these exciting displays during the day. Catch dinner at one of the fine Breckenridge restaurants and then return after dark to catch some breathtaking views as the sculptures are lit with attractive lighting and the artists work into the night.
For more information, contact:
Breckenridge Resort Chamber
P.O. Box 1909
Breckenridge, CO 80424
(800) 789-SNOW / (800) 789-7669
(970) 547-3100
Snow Sculpture Championships
email: [email protected]