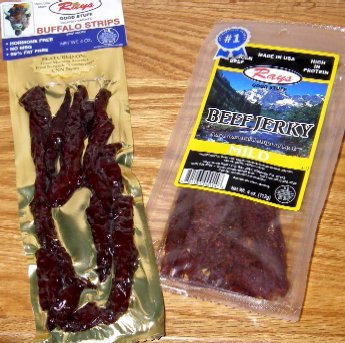 What: Ray's Good Stuff (Premium Jerky)
Where: Just South of Montrose AND Main Street in Ouray
When: varies – closed January, February, March
The "Good Stuff" can definitely be found at the well-named Ray's Good Stuff store on US 550 about 5 minutes south of Montrose. Look for the numerous "Jerky" signs, and perhaps an air-filled giant "man" waving about to catch your eye as you drive along the highway.
Inside the shop, you'll discover not only Ray's home-made beef jerky in numerous flavors such as mild, teriyaki, jalapeño, and black pepper, but also other types of jerky made from elk, buffalo, and turkey. Can't make up your mind? They'll gladly snip off a free taste of each flavor that you find enticing. Be warned, however, that you'll likely end up deciding to buy a flavor or two (or three, or…need we go on?)
This is a fun little store to browse, as well. Ray's carries jellies and jams, unique snack foods, maple syrup, and other goodies. The shop has a relaxed and rustic feel to it — enjoy it as you munch on those yummy jerky samples.
For more information, contact:
Ray's Good Stuff
19385 Hwy 550
Montrose, CO 81403
or
710 Main St.
Ouray, CO 81427
970-626-3700
877-626-3720 toll free
www.raysgoodstuff.com