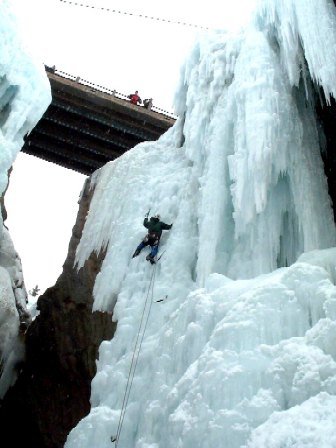 What: Ouray Ice Festival and Ice Climbing in Ouray
Where: Ouray
When: Ice Festival: 2nd or 3rd weekend in January, Friday, Saturday and Sunday
Free Ice Climbing/viewing: All Winter (conditions permitting)
Waterfall ice climbing has been described by some as "a sport for lunatics", something for a few misguided souls considered by their friends to be possibly "brain dead." Perhaps both definitions might adequately describe what is fast becoming one of the most thrilling mainstream winter sports being enjoyed by both participants and spectators. Ice climbers can be seen ascending Ouray's frozen waterfalls with such bizarre names as "Bird Brain Boulevard", "Horsetail Falls" and "Grandma's Glass Pony Shop".
Ouray has been called the "Switzerland of America," and rightfully so. Bring your camera and enjoy the breathtaking majestic beauty of the surrounding San Juan mountain scenery while being dazzled by the seemingly death-defying feats of climbers participating in the annual Ouray Ice Festival.
Ice climbing in Ouray's Ice Park officially got its start in the early 1990's thanks to the efforts of a few imaginative local climbers and water provided by the owner of the local hydroelectric plant located – where else – but atop the classic ice climb known as "Bridalveil Falls". A marriage truly made in heaven (or more factually made in Box Canyon), the 150 foot deep gorge is the site of the Ice Festival. The festival takes place during Martin Luther King, Jr. holiday weekend in January; however, you'll find plenty of ice climbers here all winter long.
The Festival has a myriad of outdoor companies displaying and providing various articles of equipment and clothing for you to try out. The climbing competitions are simply spectacular and free for viewing. There are several special viewing platforms as well as a couple of bridges which are located just above where the action takes place.
Bring the kids along as those manufacturers always have some really cool things to give away. You're sure to bring home a bunch of stickers that will remind you of the good time you had — long after your efforts to remove them from the windows of the family car!
Dress warmly. Hat, gloves, sunglasses, sunscreen and a warm coat are all advisable attire. Oh, and don't forget to throw in your crampons and ice tools, just in case . . .
For more information, contact:
Ouray Chamber of Commerce
1222 N. Main St.
P.O. Box 145
Ouray, CO 81427
(970) 325-4746
www.ourayicefestival.com



Additional directions:
The most easily accessible (and viewed) ice climbing is found just south of town, a 5-minute drive (or a slightly longer walk) from most lodging. Head up US 550, and turn right onto Camp Bird Road after the first tight switchback curve.