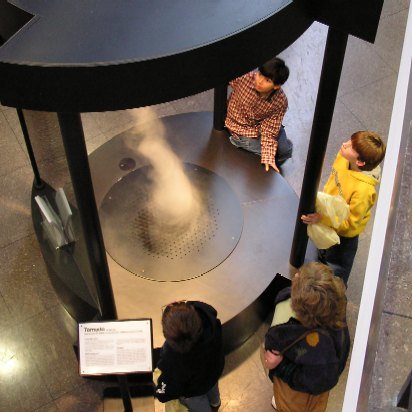 What: National Center for Atmospheric Research (NCAR) tour
Where: Boulder
When: Self-guided tours Weekdays 8-5; weekends and holidays 9-4;
Guided Tours at noon daily
In Woody Allen's 1973 movie Sleeper, Woody tries to load a huge magnetic tape on a super computer, and ends up dangling out a window tangled up in tape. The futuristic building featured in this scene is the beautiful structure designed by world famous architect I.M. Pei, and the home of the National Center for Atmospheric Research (NCAR). It is situated in a spectacular setting, nestled beneath Boulder's dramatic Flatiron rock formations.
Adults and children alike will find fascinating hands-on displays that demonstrate how tornadoes form, how eddies form in water and air, and various electrical phenomena such as lightning and static electricity. These and other exhibits demonstrate processes that affect weather and climate.
Visit the impressive computing center, utilized by researchers working to provide more accurate weather forecasts, improve hurricane warnings, understand climate change such as global warming, measure wind shear and turbulence, and much more. Learn how the use of the on-site 3D Visualization Lab has helped scientists make breakthroughs in analyzing data.
If terms like gigaflops and terabytes mean something to you, you'll find additional details on the computers currently being used at NCAR, which runs one of the 10 fastest supercomputing centers in the world. Computer history buffs will enjoy a close-up view of part of the old Cray Supercomputer used by the center starting in the late 1970s.
After enjoying the indoor displays, head outside to the 0.4 mile Walter Orr Roberts Weather Trail, where you'll hike through a nature preserve and learn about weather phenomena that may be visible around you while you walk! View the infamous Brown Cloud, look for Mountain Waves in the clouds, and learn about cold fronts, snow, ultraviolet light, erosion, fire, drought, and thunderstorms (oops, time to head back inside!) Be on the lookout for mule deer, rabbits, and lovely springtime wildflowers in the woods around you. Numerous other hiking trails are available in this region as well.
For more information, contact:
National Center for Atmospheric Research
1850 Table Mesa Drive
Boulder, CO 80305
303-497-1000
www.ucar.edu/ucar/visitor.html
Additional directions:
Drive to the intersection of Broadway and Table Mesa Drive on the north side of Boulder. Turn west on Table Mesa Drive, and continue to the end of the road, which is the entrance to the parking lot for NCAR.