What: Longmont Museum and Cultural Center
Where: 400 Quail Road in south Longmont
When: Mon. – Sat. 9-5, Sun. 1-5.

Now here's a museum where you'll enjoy the architecture, decor, and views just as much as the actual displays!
The exhibits change regularly, and there is surely something for everyone here. Take a look at a few of the offerings for 2007 and early 2008:
Ansel Adams & Edwin Land: Art, Science and Invention
– Photographs from the Polaroid Collection
Gadgets & Gizmos: Tools in Longmont
Frederic Remington Makes Tracks…Adventures and Artistic Impressions
Added in September, 2007 — a new permanent history gallery called "Front Range Rising" with hands-on artifacts, a large-scale topographical map of the area, and numerous treasures from the Museum's collection.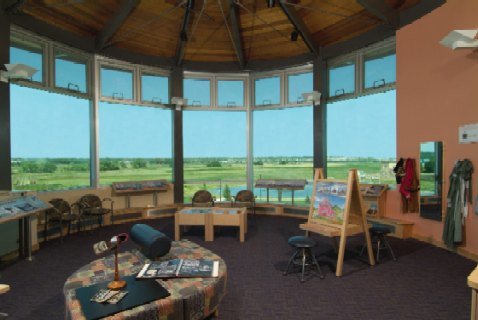 Note that the permanent exhibits are free. However, there may be a fee to view some special exhibits.
Got kids? The beautiful Longs Peak Room has killer views from the mountains to the plains, and is filled with interactive, cool stuff for the whole family to enjoy. There are local history books, an antique stereoscope, and drawers full of interesting historical objects from the Longmont area for everyone to explore.
Children can dress up as bison or crows as they learn about the special meaning of these creatures to native peoples of the region. Plan out a town using wooden blocks. Learn about early mountaineers Isabella Bird (who climbed Longs Peak in 1873!) and Enos Mills, the "father" of Rocky Mountain National Park. View some of the tools used by climbers to ascend Longs Peak over the years.
What a great way to spend the day!
For more information, contact:
Longmont Museum & Cultural Center
400 Quail Road
Longmont, CO 80501
(303) 651-8374
www.ci.longmont.co.us/museum