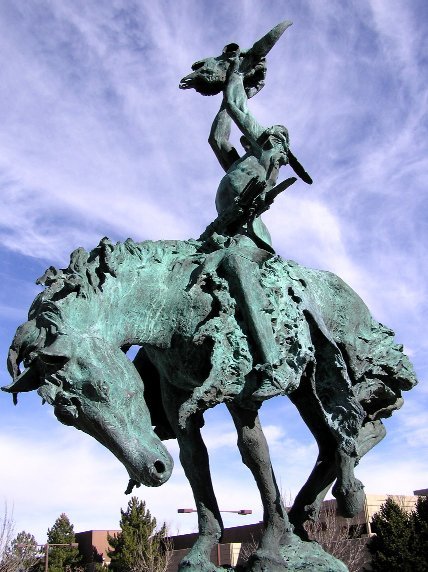 What: Leanin' Tree Museum of Western ArtWhere: Boulder
When: Monday – Friday 8 AM – 4:30 PM.
Sat. and Sun. 10 AM – 4 PM. Closed Holidays.
This art museum is one of those wonderful surprises you sometimes get to experience. Be sure to allow yourself at least an hour to fully appreciate what is described as "the largest, privately held collection of western art in the country." We're sure you won't be disappointed.
The Museum's collection includes a wide variety of drawings, paintings, and sculptures from a number of famous artists. The exquisite facial expressions in some of the artwork have to be seen to be appreciated. You expect the characters to actually step out of their frames and engage you in conversation.
The Frederick Remington collection from Harper's Weekly alone is very impressive. Those of us who can't draw a straight line using a ruler can really appreciate the life-like animation he brings to his drawings. It's difficult to say enough about this fine historic collection.
The variety of subjects insures that everyone in your family will enjoy this very special Museum. You might imagine that all the artwork revolves around cowboys and Indians. Not so! The Western landscapes are absolutely breathtaking. You'll also find a sharp contrast in theme when you come across the humorous artwork.
Take time to browse through their very fine gift shop. There you will find a wide selection of fine art gift ideas including posters and greeting cards. After all, Leanin' Tree is the largest publisher of western wildlife and regional interest greeting cards.
Visit this Museum once and you'll be promising yourself that you'll be back again real soon, Pardner!
No photography is allowed within the building, but you may take photos of the statues outside.
For more information, contact:
Leanin' Tree Museum of Western Art
6055 Longbow Drive
Boulder, CO 80301
800-777-8716 x299
www.leanintreemuseum.com
Additional directions:
Drive to the north side of Boulder, to the intersection of the Diagonal Highway (CO 119) and Jay Road (County Road 44). Turn east on Jay Road, crossing the railroad tracks. Continue 9.0 miles on Jay Road to Spine Road. Turn left (north) on Spine Road, and drive 0.9 miles (passing the entrance to Celestial Seasonings) to Longbow Drive. Turn right on Longbow, drive 1 block, and turn right at the "T" intersection. The museum will be to your left.