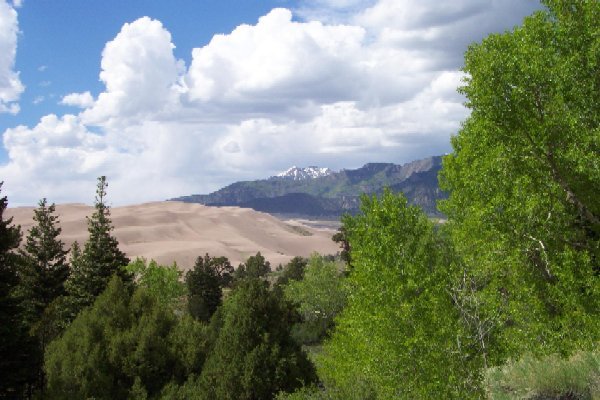 What: Great Sand Dunes National Park & PreserveWhere: Alamosa area / Westcliffe area
When: All year
Have you ever seen an Escape Dune? Played in the surge flow of a creek, just before it disappears into the sands? Come along with us to visit the remarkable Great Sand Dunes National Park & Preserve, nestled at the base of the dramatic Sangre de Cristo Mountains.
Explore the recently-expanded Park, the Preserve, and the surrounding mountains (including several "Fourteeners" – peaks over 14,000′ high). Choose among numerous hikes and mountaineering adventures, ranging from short strolls along a nature trail, to adventures on the Dunes, to visits to intriguing high-elevation caves, to a technical rock climb of The Prow on Kit Carson Peak. Whether your interests lie in hiking, mountain biking, having a picnic, playing on the "beach", sliding down the sand slopes, horseback riding, bird watching, or just enjoying peace and quiet, you'll find "The Dunes" to be a truly magical place.
What about the FREE part? There are usually one or two special free admission days to the Park via the main entrance (look for dates in our Calendar).
But wait, there's more! From the Wet Mountain Valley, south of Westcliffe, drive to the top of Mosca Pass, park, and hike down the trail into the park – for free. Or, for those with a good 4-wheel-drive vehicle (and experience driving on poor roads), head up and over Medano Pass to access the main part of the park. Warning: driving in deep, soft sand (once you enter the National Park boundary) on the Medano Pass Primitive Road can give you a deep, sinking feeling, if you get our drift. Towing charges are quite expensive.) Finally, if you aren't sure about driving in the sand, but have a vehicle that can haul you up over some big, ugly rocks, drive up toward Music Pass and hike into the Park & Preserve via that spectacular region.
For more information, contact:
Great Sand Dunes National Park
11500 Highway 150
Mosca, CO 81146-9798
719-378-6300 (main office) or
719-378-6399 (Visitor Center)
www.nps.gov/grsa
The Essential Guide to Great Sand Dunes