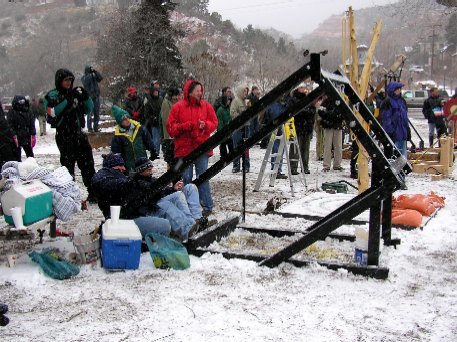 What: Great Fruitcake Toss
Where: Manitou Springs
When: First Saturday in January
At last, the answer to that age-old question: How do I get rid of this *$&*@#! fruitcake?
People in Manitou Springs have found the answer. Throw it as far as you can, by any means that you can, and hope it's never found again. You can come watch this amazing event for free (however, contestants pay a small fee or donate a can of non-perishable food to enter the events).
To be fair, separate prizes are given to numerous special tossing divisions. That is, athletes choosing to toss their fruitcakes by hand are not competing directly with those who use a catapult, giant slingshot, or spud gun (or is that a fruitcake gun?). The audience needs to be ever-vigilant for those fruitcakes that end up being tossed straight up in the air by contestants whose timing on the catapult isn't quite perfect. You know you're having a bad day when you get hit in the head with a frozen fruitcake falling from hundreds of feet above you.
Several local Inns offer Fruitcake Toss specials, including a heavy-duty cake to use in the event, and advance coaching on the art of fruitcake tossing.
The day also includes Catch The Fruitcake where teams compete to see how many they can catch from their devices that launch them into the sky (Hand Tossing not allowed with the Catch Competition), and an Accuracy Competition in which teams compete to try to hit targets out in the field.
Heads up!
For more information, contact:
Manitou Springs Chamber of Commerce
354 Manitou Avenue
Manitou Springs, CO 80829
800-642-2567 or (719) 685-5089
www.manitousprings.org
Additional directions:
Exit US 24 and turn west into Manitou Springs on Manitou Avenue.
The event is held in Manitou Springs Memorial Park, located in the 500 block of Manitou Avenue (on your right as you drive west).