What: Garden of the Gods Park, Visitor Center, Trading Post
Where: Colorado Springs
When:
Park hours: Summer 5:00 AM – 11:00 PM; Winter 5:00 AM – 9:00 PM
Visitor Center hours: Summer 8:00 AM – 8:00 PM; Winter 9:00 AM – 5:00 PM;
closed Thanksgiving, Christmas, and New Years Days
Trading Post hours: Summer 8:00 AM – 8:00 PM; Winter 9:00 AM – 5:30 PM; open all year
Drive, hike, mountain bike, or horseback ride among spectacular red rock formations and all-around, jaw-dropping natural beauty. Technical rock climbers, who must first register at the Visitor Center to obtain a permit to climb, scale the towering cliffs of sandstone. Garden of the Gods Park is home to rock formations with intriguing names such as Giant Footprints, Kissing Camels, Siamese Twins, Three Graces, and Tower of Babel.
Legend has it that two surveyors came upon this natural wonder. One commented that it would be a "capital place for a beer garden." His partner, Rufus Cable, having a greater appreciation for the uniqueness of the landscape, was taken aback. "Beer garden? Why, it is a place for the Gods to assemble. We will call it the Garden of the Gods!"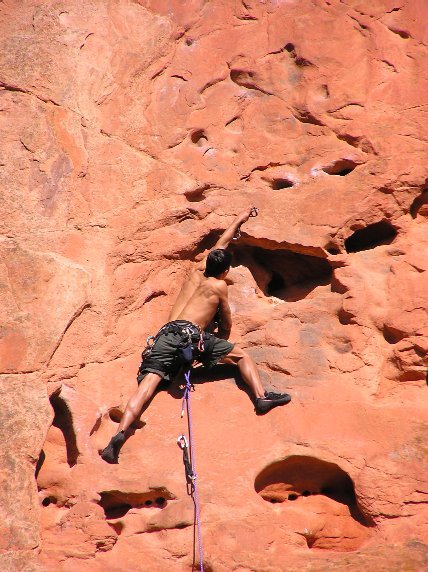 The Visitor & Nature Center is worth a stop, with interesting exhibits, complimentary park maps, and even a free sample of fudge. The cafeteria offers a wonderful view of the region, with majestic Pikes Peak as a backdrop. Ask for a schedule of the free Nature Talks held on the terrace of the building, and free guided Nature Walks.
If all this free stuff has you itching to buy something, or if you just like to browse, be sure to head over to Garden of the Gods Trading Post toward the southwest end of the park. This adobe-style building has been expanded numerous times, and now houses the largest Trading Post in Colorado.
The range of merchandise boggles the mind. You'll find the odd little five-and-dime sort of trinkets that the kids always seem to crave, as well as t-shirts galore. However, you'll also discover a wonderful collection of Navajo rugs, sand painting, Pueblo pottery, gorgeous southwestern-style jewelry, and other beautiful items in the Art Gallery.
On the other hand, perhaps you'd be interested in a mounted jackalope trophy? Ask for another free taste of fudge at the Trading Post's café before you head off into the park again for a picnic.
Check out both websites for coupons offering discounts on food and merchandise, as well as discounts for a 12-minute movie offered at the Visitor Center.


For more information, contact:
Garden of the Gods Visitor & Nature Center
30th Street & Gateway Road
Colorado Springs, CO 80904
(719) 634-6666
www.gardenofgods.com
Garden of the Gods Trading Post
324 Beckers Lane
Manitou Springs, CO 80829
(800) 874-4515 or (719) 685-9045
www.co-trading-post.com
Additional directions:
Drive to Colorado Springs on I-25
If you are heading south, take Exit 146 (Garden of the Gods Road)
Drive West 2.3 miles on to 30th Street
Turn left onto 30th Street, and follow it 1.3 miles to the Visitor Center, which will be on your left.
If you are heading north on I-25, take Exit 141 (US 24 / Cimarron) toward Manitou Springs and Pikes Peak
Drive West 2.5 miles on US 24 to 31st Street
Turn right at 31st Street, and follow it 0.6 miles to Fontanero, where you will turn right
Follow Fontanero 1 block to 30th Street, and turn left on 30th Street
Continue north on 30th Street 1.2 miles to the Visitor Center, which will be on your right.