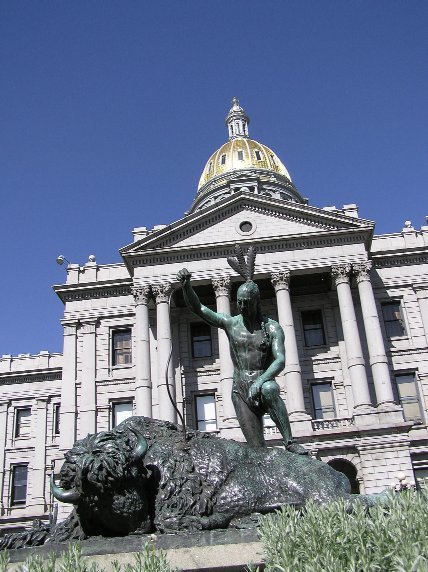 What: Colorado Capitol Building Tour
Where: Denver
When: Monday – Friday, 7:00 AM – 5:30 PM
The Mile High City is home to Colorado's domed State Capitol building. The distinctive dome is plated with Colorado gold. The gold has been replaced several times, using rolls of ultra-thin gold, requiring only 47 ounces of gold to coat the entire dome!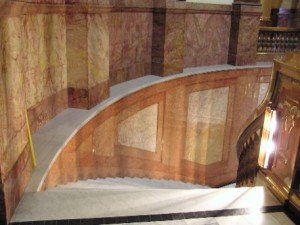 As you walk up the stairs on the west side of the building, look for a step engraved with the message "One Mile Above Sea Level." Congratulations! You are now standing a mile high. Or are you? Look at some of the surrounding steps, where you'll notice a few geodetic survey plugs marking later measurements of the real 5,280' elevation. No, we don't think the stairs are growing and shrinking. However, measuring methods continue to improve, so there may be further corrections in the future.
The building is even more striking once you step inside. When construction began in 1886 (a decade after Colorado became a state), the building committee wanted to use as much native Colorado material as possible. The 5 foot thick exterior walls are constructed of granite from aptly-named Granite, Colorado. The striking pink stone you see used for wainscoting is Colorado rose onyx (commonly known as "Beulah Red Marble") from near Beulah, Colorado. This color of onyx has never been found anywhere else in the world. Look for over 1,000 designs in the stone throughout the building that resemble famous people, such as George Washington (west wing rotunda wall) and the Unsinkable Molly Brown (west wing archway). Floors and stairs are marble from, you guessed it, Marble, Colorado.
As you explore the building on your own, or join a free tour, enjoy the murals, stained glass portraits, wall hanging, and presidential portraits. During the legislative session, step into the Senate or House of Representatives gallery to watch state legislators in action.
For those Coloradoans who've visited in the past and remember hiking up and up the spiral stairs into the dome to enjoy the views of the city and of the building below, we have some bad news. After 9/11, this part of the building was closed to visitors. The good news is that visitors are still able to stroll through much of the building to enjoy its beauty and fascinating history.
For more information, contact:
Colorado State Capitol
1475 Sherman St
Denver, CO 80202
303-866-2604
www.milehighcity.com/capitol



Additional directions:
The Capitol building is located in Downtown Denver by the intersection of Colfax Avenue and Lincoln Avenue.