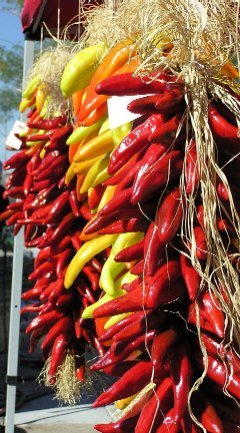 What: Chile & Frijoles Festival
Where: Downtown Pueblo – 1st and Union
When: 3rd Weekend after Labor Day in September
Friday, 3:00 PM –11:00 PM
Saturday, 10:00 AM – 11:00 PM
Sunday, 10:00 AM – 6:00 PM
2011 Update: We've learned that the Festival will be charging a small fee (admission $2; kids 12 and under-free) starting this year. Since this was one of the first items we listed on this site, we'll keep this page online so people know about the change.
Ahhh, the incredible aroma of roasting chilies turning over hot flames! Sample a variety of salsas made by local farmers as you admire colorful Ristras – chilies tied on a string. Unfortunately, the displays of frijoles – that's "beans" in case you didn't know – aren't quite as exciting to the nose and eyes. Not to worry! Kids can participate in The Art of the Bean, where they compete in age groups for the best sculpture constructed completely using beans (and mostly Pinto beans at that). Or check out the Great Bean Spit Off. Both bean-spitting accuracy and power will be judged. If the kids are still looking for something to do after all that excitement, send them over to the Piñata breaking area where they can let off a little steam.
Both commercial and non-commercial competitions are held for best Red Chili, Green Chili, and salsa recipes. The "Holy Frijoles" Cooking contest features cooked beans (again, Pintos must be the predominant ingredient). The public can help judge the Best Bean Dip in Pueblo by stopping at participating shops along Union Avenue for a sample and to place their votes. We suggest you try to schedule sampling the bean dips before you participate in the Jalapeño Eating contest.
If you've had your fill of chile and frijoles for a while, check out the farmer's market, the fine art show, live entertainment, and our favorite, the "Salsa & Cerveza" Brew Fest. Sorry, the brews aren't free.
Finally, for you car-buffs out there, the Festival often includes one or more car shows to participate, so watch for Corvettes or other cool cars at the festival.
¡Arriba!

For more information, contact:
Greater Pueblo Chamber of Commerce
800-233-3446