What: Montrose Botanical Gardens
Where: Montrose
When: Daylight hours (just open the gate if it's closed — the gardens are never open to deer)
Lovely flowers, intriguing cacti and succulents, rare and native plants, lovely trees and shrubs, winding paths, and dramatic views of the San Juan mountains — Montrose Botanical Gardens has it all. Winter, spring, summer, or fall, you'll find peace and natural beauty as you stroll around this small, but spectacular, garden located just south of the Montrose Pavilion / Events Center.
Be sure to spend some time in Gretchen's Garden, created in memory of Gretchen Van Reyper, a local botanist who was known for her expertise in rare and native plants of western Colorado and eastern Utah. Relax on the flagstone patio surrounded by native flowers and shrubs and enjoy some of the best views of Mt. Sneffels and surrounding peaks you'll hope to find.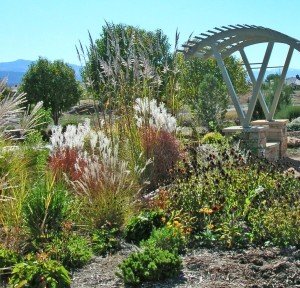 Location:
Montrose Botanic Gardens
1800 Pavilion Dr
Montrose, CO 81401
(970) 249-2539
www.montrosegardens.org
Additional directions:
From US 550 (Townsend), turn East on Niagara Road and continue 0.8 miles to Pavilion Drive. Turn right and park in the Pavilion parking lot. The entry gate to the Gardens faces north (toward the Pavilion building).