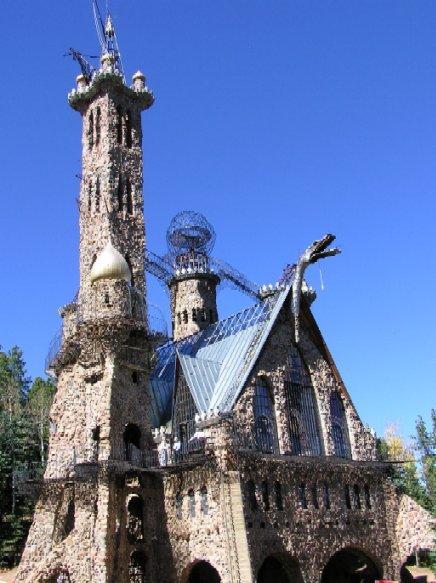 What: Bishop Castle
Where: Colorado Highway 165, near Beulah and San Isabel

"If you have built castles in the air, your work need not be lost." Could Henry David Thoreau have been talking about Jim Bishop? Bishop has literally transformed a castle of his dreams into a passion, creating a work of art (please don't refer to it as a "building" – it is a "world class monumental art form") that surpasses most peoples' wildest imaginary visions of what a castle might be.
Since 1969, Jim Bishop has been building a castle of rock and iron, stained glass and wood in the forested Wet Mountains. He has been working essentially alone on the project, creating a structure rising into the skies, with great turrets, some more than 100 feet tall, iron walkways arching dramatically between the towers, parapets winding around the exterior, a flame-spewing dragon head, a bell tower, spiral staircases of stone and of iron, buttresses, and a great hall. On one of many hand-painted signs posted around the grounds, Bishop describes future plans for a moat and dungeon.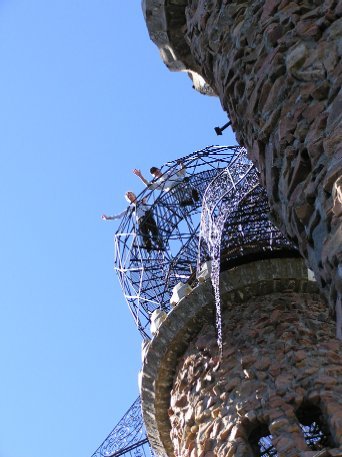 Speaking of hand-painted signs: Bishop isn't shy about letting visitors know what he thinks. A recent added attraction is described as "Jim's Sign Garden." Walk along a short trail to "visit Jim's rants through the ages in a unique collection," as a sign describes it. As you read the often-lengthy messages, you'll learn that he adamantly disagreed with the fire ban ordered during a recent draught. "If we let our government take fire, what freedoms will they demand their slaves to sacrifice next?" Be aware that "no drunk taxpayers" are welcome, and that most "lawyers, politicians, bureaucrats & Gestapo" should be ashamed and should "get an honest job" – in this case, by providing legal services. "I now need a truly good lawyer!"
An on-site gift shop and snack bar round out the venue. Children will find numerous costume effects such as Viking helmets, capes, swords, magic wands, toy dragons and knights. Books range in topics from crystals to Christianity, from Racy Madams to Road Kill (a cookbook). Then there are the politically-oriented items, which we'll leave to the reader's imagination.
Viewing Bishop Castle is a real jaw-dropping experience. A word of caution: this work of art (remember: it is not a building) has not been subject to building and safety inspections. You are on private property, and the Castle is a work in progress. It is not unusual to walk along a high iron walkway, turn a corner, and find that the walkway ends abruptly (marked only with a ribbon), or that the handrails you were clinging to for dear life haven't been completed on the section you are now traversing. Don't let your kids explore without staying very close beside them!