What: Pioneers Museum
Where: Colorado Springs
When: Tues – Sat, 10 – 5; Sundays (May – October), 1 – 5
As you enter this fabulous museum, you are greeted by a statue of Katharine Lee Bates, who was inspired by a trip to the top of Pikes Peak to write the famous words, "O beautiful for spacious skies, For amber waves of grain, For purple mountain majesties Above the fruited plain!" Go ahead and sing the rest of the song; we can wait.
Hop on the "birdcage" elevator to go to the 3rd floor, where you'll find many of the permanent displays. A portion of Helen Hunt Jackson's house here in Colorado Springs has been restored here. This 19th century author is remembered for her work as an activist for Native American rights, and for her close friendship with Emily Dickenson.
You'll also find a room devoted to Indians of the Pikes Peak region, items from the late 19th Century and early 20th Century, and a beautifully-preserved Main Courtroom – appropriate, since the museum is housed in the old El Paso County Courthouse building, built in 1903.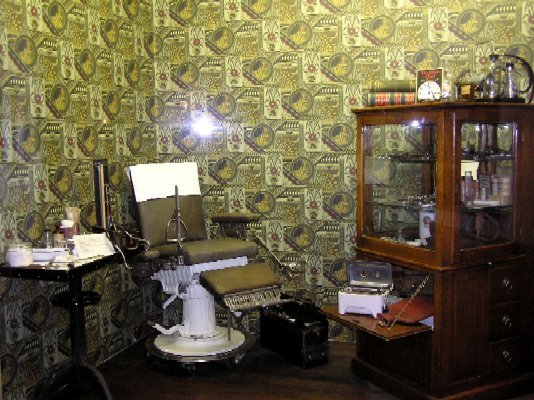 Our favorite exhibit is the Medical Heritage room. Colorado Springs and nearby Manitou Springs were promoted as health meccas. Manitou's mineral waters were touted as cures for maladies including alcoholism, gout, cancer, and obesity. Colorado Springs was advertised as being one of the healthiest places in the world (especially for those suffering from tuberculosis), because "the atmosphere is absolutely aseptic and free from all germ life," according to a Secretary of the Chamber of Commerce who was promoting the area years ago. The exhibit includes some fascinating (albeit slightly frightening) displays of early medical and dental equipment. One room has shelves overflowing with boxes and cans of liniments, medicated pads, lotions, extracts, and the like. A hypochondriac's delight!
Other floors include exhibits of antique clothing, children's toys, quilts, Van Briggle Pottery, Native art, textiles, and changing exhibits.



For more information, contact:
Colorado Springs Pioneers Museum
215 S Tejon Street
Colorado Springs, CO 80903
(719) 385-5990
www.cspm.org
Additional directions:
Drive to Colorado Springs on I-25
Take Exit 141 (Cimarron Street), and drive east 0.6 miles to Tejon Street.
Turn left on Tejon Street, and drive 2 blocks north to Vermijo Avenue.
Turn right on Vermijo Avenue. The museum is on your left, in the beautifully restored old El Paso County Courthouse building.
Free parking is available along Vermijo starting one block past the museum. Metered parking and a parking garage are also available close to the museum.